'The Story of Things' is a podcast series hosted by the University of York. Experts in their field discuss how we understand the world around us and what researchers and communities are doing to improve our environment, culture, health and wellbeing.
Series One and Two are supported by the York Festival of Ideas and presented by Archaeologist, Dr Penny Spikins. Series Two is produced for the University by Overtone Productions.
Listen now on Soundcloud.
Episode 1
---
Telling the Bees
This edition is about a project spearheaded by Dr Debbie Maxwell that has brought together different organisations and groups – from primary schools to beekeeping associations – to explore through storytelling, folklore and design, the importance (and precariousness) of bees and pollinators today. They also invented a new 'artefact': a beespoon which is a fifth the size of a teaspoon and contains as much honey as a single bee will make in her lifetime. We visit the beehive that's on the roof of the Department for Theatre, Film and Television and also a school that is involved in creating 'future folklore' about bees and their importance.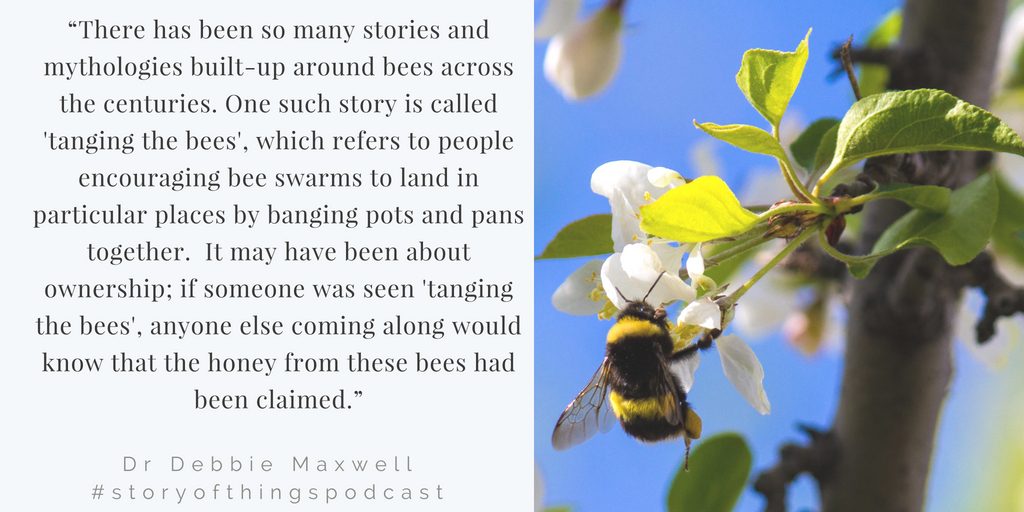 https://soundcloud.com/the-story-of-things/the-story-of-bees
Episode 2
---
1966 World Cup
Dr Kevin Tennent and Dr Alex Gillett talk to Penny about their research into the story of the 1966 Football World Cup – how it was organised and marketed, and particularly what we can learn about its legacy in terms of Mega Event organisation, commercialization, it's impact on urban infrastructure and also simply national memory. We join Kevin and Alex for a game of football as well as visiting the National Football Museum in Manchester, and Old Trafford, Manchester United's homeground.
https://soundcloud.com/the-story-of-things/two-the-story-of-football
Episode 3
---
Voice and Identity
This project, run by Dr Vincent Hughes and Professor Peter French explores how voice analysis can be used in court as evidence of an individual's identity. There are two methods of analysing recordings, one is used in the courts at the moment and one isn't. Vince and Peter's project aims to provide the evidence that both methods are useful legal tools. Penny's own voice is analysed too against an 'offender sample', but no crimes were committed in the making of this podcast.
https://soundcloud.com/the-story-of-things/the-story-of-voice
Episode 4
---
Mental Health and Policing
We hear from Dr Nicola Moran and Inspector Bill Scott about a project that aimed to improve North Yorkshire Police's understanding and handling of incidents involving people with mental health issues. Bill was awarded the Queen's Police Medal in the 2018 Honours List for his involvement in this ground-breaking project and we hear about the impact it has had, and the interest in it from other police forces not just in the UK but around the world.
https://soundcloud.com/the-story-of-things/the-story-of-mental-health
FInd out more on The Story of Things Soundcloud channel here.