Welcome to Overtone Productions, a UK independent production company founded in the summer of 2012 by award-winning radio producers Adam Fowler and Anna Scott-Brown.
We've been making radio programmes, mostly for the BBC, for many years, through other independent radio production companies and local BBC stations. Now we're under our own steam exploring new ideas and the things we are excited about.
At Overtone, we revel in the richness of sound in all its subtle splendour, and celebrate its multi-layered role in telling stories that are complex, revealing, and real.
We are bringing people together who are passionate about radio, ideas, journalism, integrity and fairness and who share our excitement for creative audio.
We balance our creative work with family commitments and a presence in our local community.
We want to share our enthusiasm for the medium and for great stories with listeners, with people new to the industry and our peers.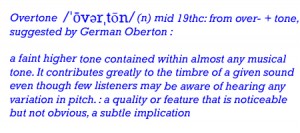 UK Company Number 7820430