It isn't often that you find yourself, in my experience at least, in Francophone sub-Saharan Africa, drinking tea, naked. Even more strange, this was Senegal – a country with a pronounced (if not proud) sense of modesty. It is a predominantly Muslim country and, although you do often see women in beautifully tailored, figure-hugging traditional dresses and bare arms, you will rarely see exposed legs and more often than not hair is also covered. The men too are fully clothed, often wearing boubou, a loose long traditional dress, with both arms and legs covered. One Senegalese woman told me that if you saw a man in the street without his shirt, "On penserait qu'il avait des problèmes mentaux (sic)" and a man said curtly and in disbelief simply "Ça n'arrive pas", it doesn't happen. I blanch at the thought of what they would have said about us.
I was in Senegal to record material for the BBC World Service commission, 'The Benefits of Nakedness', presented by Dr Keon West, who was also with me. The Naturist Club of Senegal is a somewhat fledgling organisation and is one of only three officially-recognised naturist clubs in Africa, the others being in Cameroon and South Africa.
The club has worked hard to negotiate with the authorities to allow the existence of a naturist camping site in the Casamance region in the south. Officially, it's illegal to be naked in public in Senegal, but in the Casamance, the majority faith is animist, an ancient African spirituality which is much more accepting of nudity. In fact, the view of the club is that naturism is a natural African state of things and not a Western concept at all.
We had wanted to visit this camping site but, for reasons that will become clear in the programmes, this was not possible. We were forced to stay in the capital, Dakar, a place which my Senegalese contact had described from the outset as hostile to public nudity, and where many of the group felt unsafe meeting for this purpose. As a result, our tea party was small, secretive and indoors. In fact, Keon and I numbered half the party. This was altogether a different thing to any previous experience, but at least I didn't have to worry about how to apply suncream to those parts I couldn't reach.
There were many thoughts running through my head as the allotted time for our meeting approached. What should I wear to greet them? Something smart? (I am working after all). Perhaps it should be something easy to take off: a bungled, albeit unintentional, striptease would not be the best start. At what point should we get undressed…will that become clear? Is there any etiquette about when to take pants off? Is there any etiquette at all? Will they want tea or coffee? Is it even hygienic to be sat like that on a sofa? Is it appropriate to be meeting in a hotel room? Have I come nearly 4000 miles for what could be just a massive swing-fest?
Once assembled, clothed, it didn't help that I needed the loo. Disappearing into the en suite, I pondered whether or not I should even bother pulling up my trousers. Perhaps it's uncouth to wander bottomless (or rather bottom very much on display) from the act of a bodily function. These were anxieties I'd never imagined I would be dealing with, before the production of this programme. And the overriding one was:
What on earth was I doing here?*
Instinctively I looked around the bathroom for an escape route – I've got form in this respect: in 2002 I locked my cubicle door and left out of the window of the college cricket pavilion to escape a rather tedious and sexist gathering – but a less-limber, more professional me instead took a deep breath and rather sheepishly, emerged (with even my belt in place).
Everyone else was naked. There was nothing else to do but take the plunge.
In fact, it turned out that our Senegalese guests, a man and a woman, had been awaiting the starting (or perhaps starking) gun with the attention and agility of poised athletes and had dispensed with their clothes virtually in the blink of an eye. They also appeared more, rather than less, comfortable without them and threw my own awkwardness and apprehension into sharp relief.
It was clear they were naked a lot. It was also clear I wasn't as I sat shaking, microphone in hand, trying not to look, or brush anyone's skin with recording paraphernalia.
Thankfully, conversation is conversation, whether clothed or not and, although my spoken French is not good, I could understand what was being said. There were moments of both surprise and laughter. As the afternoon wore on, I came to realise that these people valued naturism to such a degree that they were prepared to act against their country's predominant custom, invest huge amounts of time and not a little money, and also sacrifice their marriages and other personal relationships to achieve it. It is extraordinary dedication.
But I don't want to gloss over the difficulties of this gathering for me. It dawned on me that size does matter. I'm referring of course to the size of the group. Sitting with only three other people, and indoors, was not a relaxing or enjoyable experience. At every stage, I was aware of my clothes, out of the corner of my eye, calling to me. It was not at all sexual and everyone was highly respectful, but I wasn't equipped for this kind of intimacy.
Out on the balcony was easier. Perhaps it was the fresh air, perhaps it was just standing up – sitting down naked in a social context was a first for me, and it felt unfamiliar and uncomfortable. It does make me anxious about the trips to come – especially India where, again, nakedness in public is, to some degree, a risk.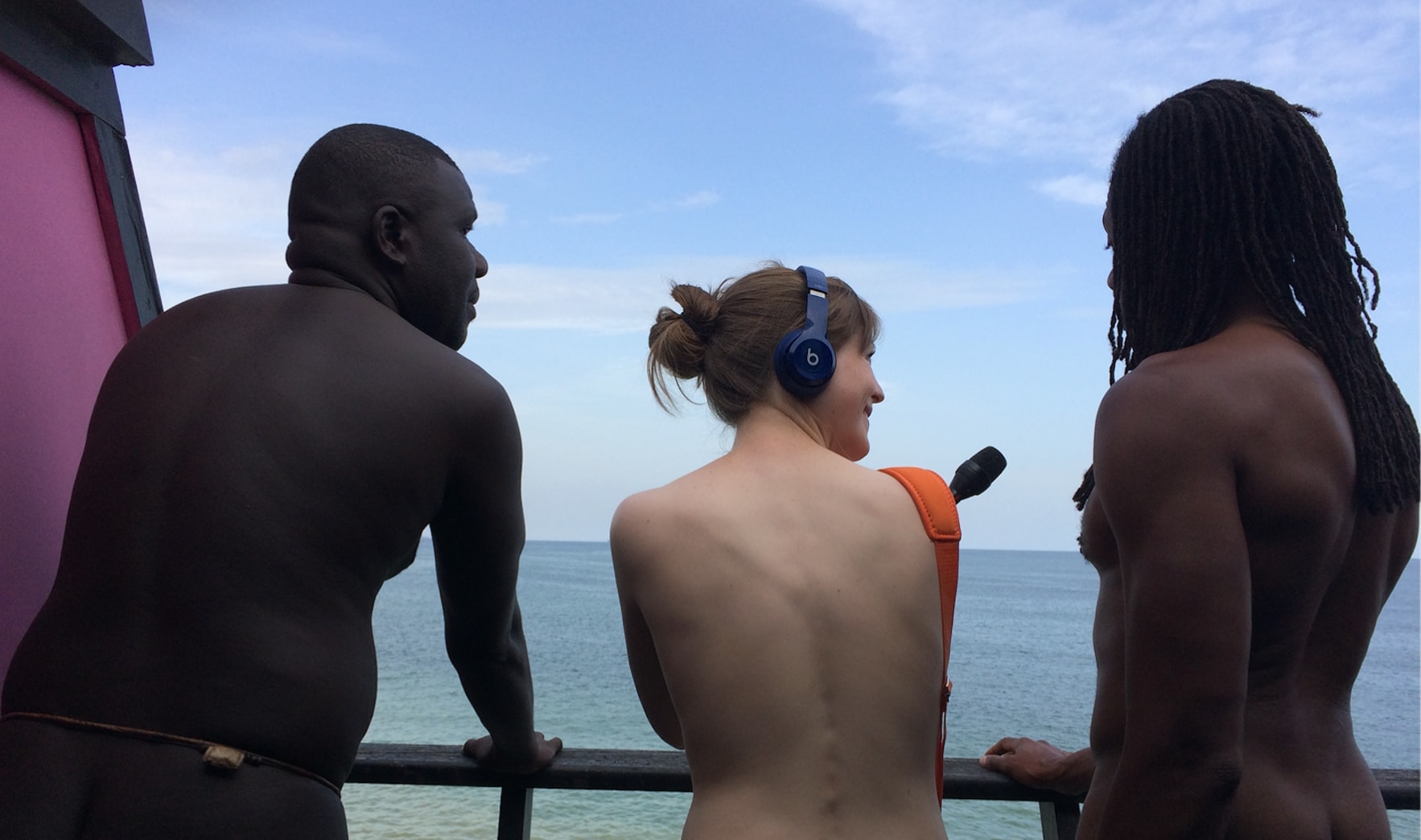 I may not be a natural naturist, tautologous though that sounds, but I can appreciate that for many people it adds a huge amount to their lives – in fact, it is perhaps for some a way of life. And I can also appreciate that I'm lucky to live in the UK where it is possible to be yourself in this way or indeed many others that might be considered unacceptable in more conservation cultures. (The (imperfect) comparison with the struggle for gay rights was brought up more than once by our Senegalese friends). In fact, I've received nothing but support from friends for this blog and the programme – for which I'm touched and extremely grateful – when in other countries it would not have been prudent for me even to have written it.
Some of us may think that naturists are a few stitches short of an outfit (as it were), or that they are just swingers by another name, but in the UK, in both law and in general, we let them be, chacun à son goût. In Senegal, the state of being socially naked is imbued with moral significance, perceived by most to be at worst a symptom of depravity and at best a mental illness. The dedication of this group took me by surprise and elicited no small amount of respect. If I've made any steps forward in my embracing of naturism, however, after this experience I took at least one step back.
But the journey goes on. Next time we'll be closer to home – in Germany where there is a considerably greater acceptance of social nudity, and I hear also more hair.
*paraphrased.