These are programmes in the making. Please click on the list in the right-hand side column for released documentaries.
Black Art Matters
BBC Radio 4
Producer Michael Clifford
Using the rediscovery and exhibition of the work of artist Donald Rodney we assess the current state of Black British Art, at a particularly poignant time.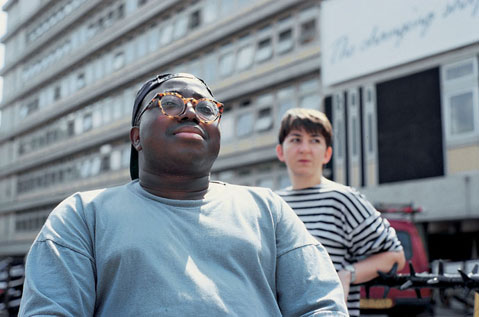 ---
A New Church for the Red State
for BBC World Service
In collaboration with Andrey Levitskiy studying for a PhD on the Renovationist Movement at Oxford University.
Producer Adam Fowler
Orthodox Christianity was at the top of the Bolsheviks' list for obliteration. But a vigorous religious reform movement emerged after 1917 to democratise and modernise the Russian Church, bringing it closer to people than ever before. Caroline Wyatt meets the daughter of its leader who shares memories (and an archive) of her father for the first time. The programme reveals why the established Orthodox church joined its Soviet oppressors to quash this liberalisation of religion. The model of close Church-state cooperation and subordination that developed as a result is the blueprint for the politico-religious nexus in modern Russia.
---
St Pancras Pianos
for BBC Radio 4
Producer Sophie Sparham
In this lyrical and beautiful improvisation, we hear the music and stories of those playing the street pianos in St Pancras Station.
---
Conversations on Bench x3
for BBC Radio 4
Producer  Adam Fowler
Anna Scott-Brown extends her remarkable bench-based interviewing skills around the UK for a third run of 'Conversations on a Bench.' She elicits more personal testimonies, hidden lives, and musings on the human condition, complemented by a commissioned poem that interacts with, but does not merely mimic, the conversations.
Sarah Howe has chosen a bench in China Town, London, reflecting her own Chinese roots, and uses her "rich, imagistic poetry that plays wildly with form" to explore this culture. She is attracted to Conversations on a Bench because it "expresses the spirit of a place as well as something more literally human."
Andrew McMillan will write around conversations collected on a bench in Piccadilly Gardens in Manchester.
"poetry, to me, has always been about a glimpse, a snatched moment and also about the ordinary stories that people tell each other everyday. I'm interested in the beautiful things people will no-doubt say in a busy urban setting and to craft a response that speaks back to them, and to the audience"
andrewmcmillanpoet.co.uk and twitter is:@AndrewPoetry
---
Poetry from the Margins (Title TBC)  
BBC Radio 4
Producer Matthew Teller
Bridget Minamore tells the story of the many ways that female poetic voices, marginalized and snubbed by traditional outlets, have made and are making their voices heard.
---
Che Today
for BBC World Service
Producer Gill Davies
October 9th 2017 is the 50th anniversary of the death of Che Guevara. Che's daughter, Aleida, and son, Camilo, other family members and friends consider what Che would have made of Cuba's position in the world today.
---
Benefits of Nakedness
for BBC World Service
Producer Philippa Geering
Clinical psychologist Keon West dips into the world of naturism. No longer seen as a cultish fad of the 70s, it is gaining increasing ground around the world, not only in Europe and the US, but also in countries such as Senegal and Peru. So what are the benefits and how is nakedness perceived in different countries and cultures around the world?
---
America's Mosques – Muslim in the Age of Trump
BBC World Service
Producer Adam Fowler
In a follow up to his award winning programmes America's Mosques, Tharik Hussain returns to the States. From Trump's heartland to the centre of power he talks to Muslims in Iowa and Washington to find out what being Muslim and American looks like in this brave new American World. What is the reality on the street?