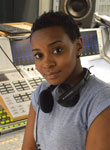 The very talented Candace Wilson works part-time for Overtone as an Assistant Producer.
She's assisted on OBs and facilitated band recordings for live radio sessions. After spending two years working in music radio at Virgin Radio UK, Candace has made the move back to speech radio to assist on different projects.
Candace is also a freelance Assistant Producer, who has worked across various teams at BBC Radio and within Commercial Radio.